Have you ever heard of pressure mapping?
It's a really cool technique that involves using specialized sensors to measure the pressure on a surface, like a chair or mattress. It's got a ton of benefits, especially when it comes to seating.
One of the main advantages of pressure mapping is that it can help us understand how our bodies are interacting with a chair. You know when you sit in a chair and it just feels uncomfortable, but you can't really put your finger on why? Well, pressure mapping can give us a clue.
By measuring the pressure on different parts of the chair, we can see exactly where our bodies are putting the most pressure and where we might be experiencing discomfort. With this information, chair designers can make changes to the chair's design to reduce pressure on those areas and increase comfort.

But pressure mapping isn't just about comfort - it can also be used to assess the fit and ergonomics of a chair.
For example, the way a chair back supports the body has a huge impact on the pressure distribution of the seat. If the back support does a good job of supporting the pelvis in an upright posture, the sit bones will be driving directly down into the seat surface.
A pressure map can show us how well a seat cushion is doing at dispersing that pressure or whether there are high peak pressures that are causing us to shift positions frequently or even slouch to relieve the pressure. This information can help designers make changes to the chair to improve its fit and function.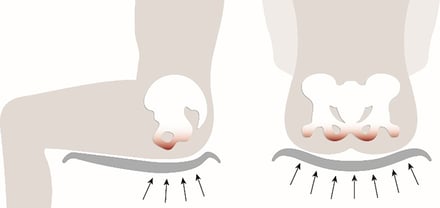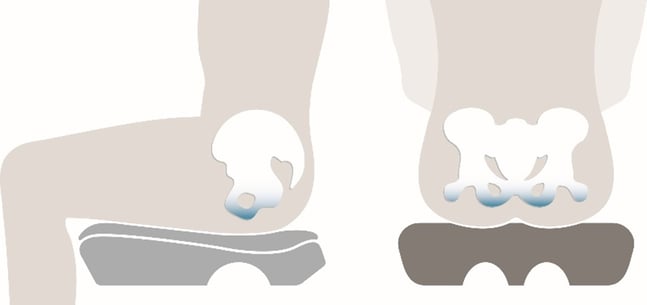 Considering our deep understanding of seating at Anthros,
we used pressure mapping to validate the design of our seat cushion. Since our independently adjustable two-part back system uniquely holds the pelvis in neutral, we knew that we had to design a seat cushion that would distribute pressure away from the sit bones to prevent high peak pressures and ultimately discomfort.
We used 3D human modeling to perfect the design with contours and pressure relieving cutouts, then created the prototype and had it tested at an independent university lab against nine competitors chairs to see if we had achieved our goal of having the lowest seat pressure.
So, there you have it - pressure mapping is a really useful tool that can help us understand how our bodies interact our chairs and it has the potential to improve product design and increase comfort.
Peak Pressure Index
University of Pittsburgh Study
Low Values are Desirable
If you are looking to improve posture while sitting, look no further than Anthros.
Anthros is the only chair in the world that is guaranteed to improve posture or your money back. The science-backed, patented design, is registered with the FDA as a posture-improving chair and is proven to have the lowest pressure (most comfortable) cushion on the planet (verified by university testing).
Take the next step to reducing pain, increasing comfort, and maximizing performance!