Sitting for long periods of time can have negative effects on the body, including an increased risk of developing pressure injuries.
Pressure mapping is a technique used to measure and visualize the pressure distribution over a surface, such as the skin of the buttocks, and can be used to identify areas of high pressure that may be at risk for tissue damage or discomfort.
One measure used in pressure mapping is the peak pressure index (PPI), which is the highest-pressure value recorded within a specified area or over a specified time period. The PPI can be calculated in a number of ways, such as the highest-pressure value recorded within a specific region of the buttocks or over a specific time period while sitting.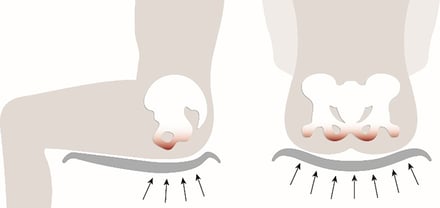 The PPI can be affected by a number of factors, including the type of surface being sat on, the individual's body weight and shape, and the chair design. For example, sitting on a hard surface may result in a higher PPI than sitting on a soft surface, and a chair with poor support may increase the PPI compared to a chair with good support.
In general, the PPI is used as one measure of pressure distribution, along with other measures such as the average pressure and the pressure-time integral. These measures can provide valuable information about the distribution of pressure over the buttocks and can help to identify areas of high pressure that may be at risk for tissue damage or discomfort.
Peak Pressure Index
University of Pittsburgh Study
Low Values are Desirable
Anthros understands the importance of having low peak pressures in sitting for optimal comfort and focus.
That's why we designed a cushion using state-of-the-art 3D human modeling. Through anthropometric contours, and pressure-relieving cut outs, we were able to achieve the lowest peak pressures possible, and we have the results to show it.
If you are looking to improve posture while sitting, look no further than Anthros.
Anthros is the only chair in the world that is guaranteed to improve posture or your money back. The science-backed, patented design, is registered with the FDA as a posture-improving chair and is proven to have the lowest pressure (most comfortable) cushion on the planet (verified by university testing).
Take the next step to reducing pain, increasing comfort, and maximizing performance!