Click on the letters below to learn more about
the science behind our revolutionary design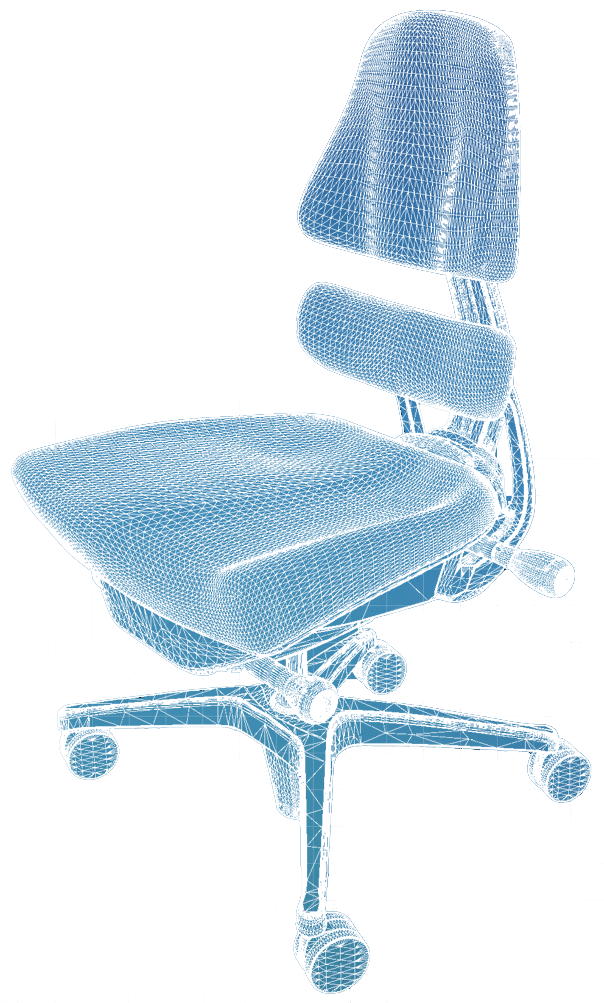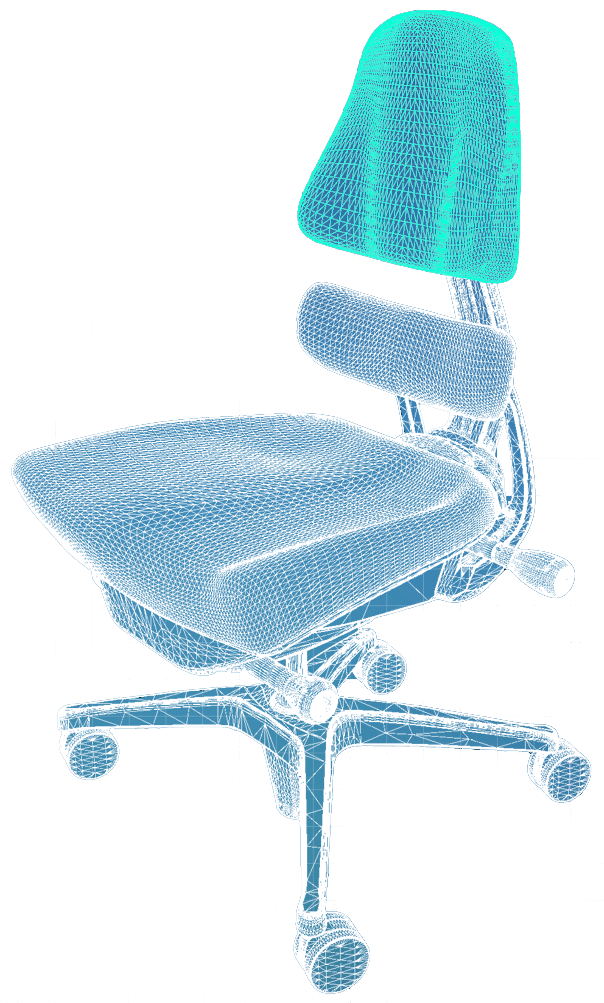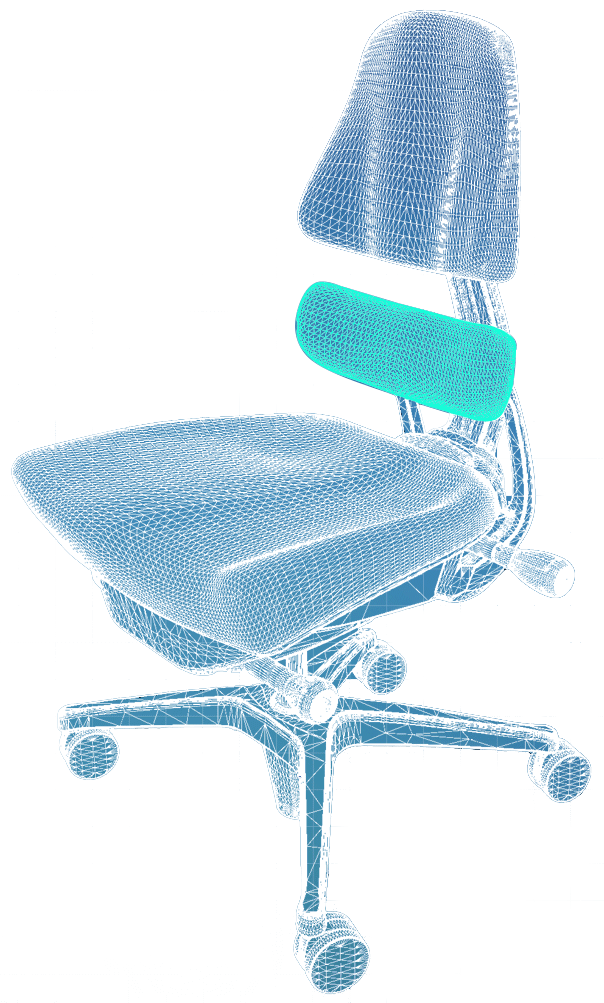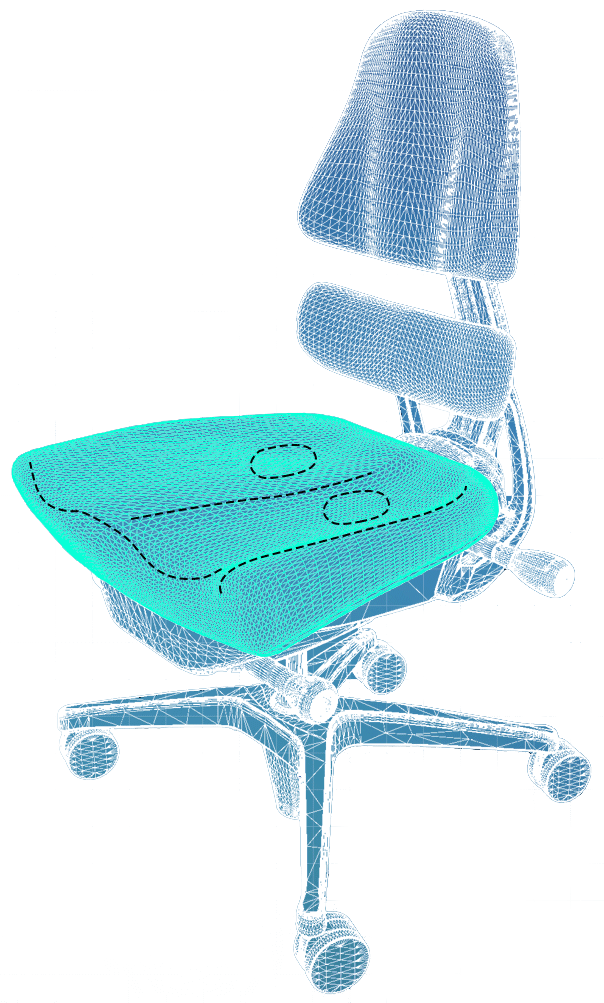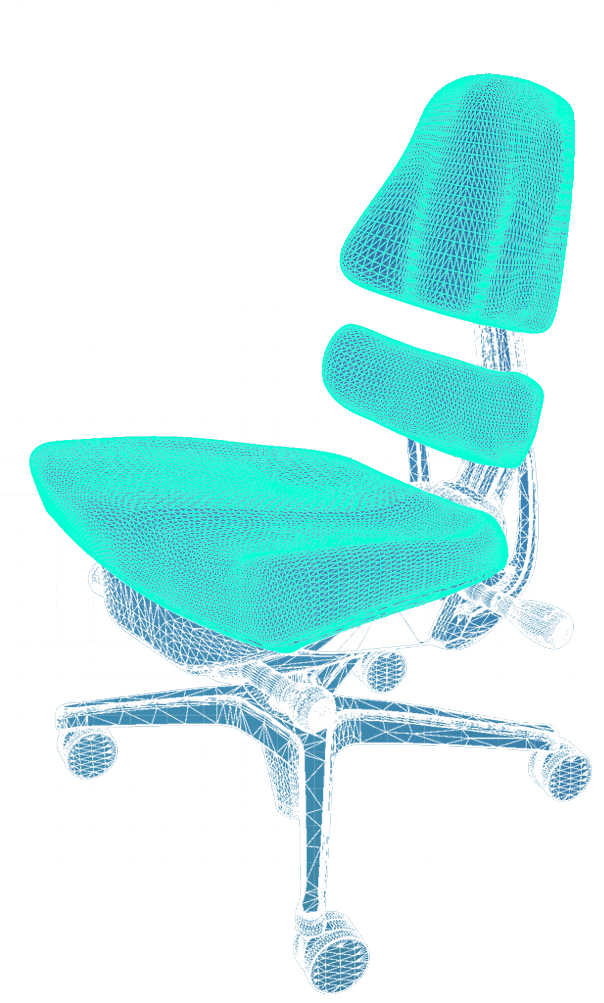 Upper Back - Thoracic Support
Supporting the upper back independent of the lower back will promote elongation of the spine and help maintain upright neutral posture.

Supporting the upper back independent of the lower back will align the body in a more neutral posture which may reduce muscle imbalances.*
Something Powerful
Tell The Reader More
The headline and subheader tells us what you're offering, and the form header closes the deal. Over here you can explain why your offer is so great it's worth filling out a form for.
Remember:
Bullets are great
For spelling out benefits and
Turning visitors into leads.
Coming Soon! Independent ISO Testing from University of Pittsburgh
Cohn, 1886; Schoberth, 1969; Branton, 1969; Lee, 2010.

Tanoue H, Mitsuhashi T, Sako S, Goto R, Nakai T, Inaba R. Effects of a dynamic chair on pelvic mobility, fatigue, and work efficiency during work performed while sitting: a comparison of dynamic sitting and static sitting. J Phys Ther Sci. 2016 Jun; 28(6):1759-63. doi: 10.1589/jpts.28.1759. Epub 2016 Jun 28. PMID: 27390410; PMCID: PMC4932051.

Katzman et al. Age-Related Hyperkyphosis: Its Causes, Consequences, and Management. J Orthop Sports Phys Ther. 2010




Jun; 40(6): 352–360.

Kim D, Cho M, Park Y, Yang Y. Effect of an exercise program for posture correction on musculoskeletal pain. J Phys Ther Sci. 2015; 27(6):1791-1794. doi:10.1589/jpts.27.1791

Moldovan, M. (2012). Therapeutic considerations and recovery in low back pain: Williams vs McKenzie. Timisoara Physical




Education and Rehabilitation Journal, 5(9), 58-64.

Key, J. (2013). 'The core': understanding it, and retraining its dysfunction. Journal of bodywork and movement therapies, 17(4), 541-559.

Nair, S., Sagar, M., Sollers, J. III, Consedine, N., & Broadbent, E. (2015). Do slumped and upright postures affect stress responses? A randomized trial. Health Psychology, 34(6), 632–641. https://doi.org/10.1037/hea0000146

Carnet et al. Power Posing: Brief Nonverbal Displays Affect Neuroendocrine Levels and Risk Tolerance. Physchological Science 21(10) 1363-1368. 2010

Suzanne Hiemstra-van Mastrigt, Liesbeth Groenesteijn, Peter Vink & Lottie F. M. Kuijt-Evers. (2017). Predicting passenger seat comfort and discomfort on the basis of F. M. Kuijt-Evers (2017) Predicting passenger seat comfort and discomfort on the basis of human, context and seat characteristics: a literature review, Ergonomics, 60:7, 889-911, DOI:10.1080/00140139.2016.1233356

Wegner M, Martic R, Franz M, Vink P. A system to measure seat-human interaction parameters which might be comfort relevant. Appl Ergon. 2020 Apr; 84:103008. doi: 10.1016/j.apergo.2019.103008. Epub 2020 Jan 10. PMID: 31987505.

Zhang, L., Helander, M. G., & Drury, C. G. (1996). Identifying factors of comfort and discomfort in sitting. Human Factors, 38(3), 377-389. https://doi.org/10.1518/001872096778701962)

Li W, Mo R, Yu S, Chu J, Hu Y, Wang L. The effects of the seat cushion contour and the sitting posture on surface pressure distribution and comfort during seated work. Int J Occup Med Environ Health. 2020 Sep 17;33(5):675-689. doi: 10.13075/ijomeh.1896.01582. Epub 2020 Jul 27. PMID: 32716013.

Sonenblum, S. E., & Sprigle, S. H. (2011). The impact of tilting on blood flow and localized tissue loading. Journal of Tissue Viability, 20(1), 3-13. https://doi.org/10.1016/j.jtv.2010.10.001

Shankar, S., Ben Mortenson, W., & Wallace, J. (2015). Taking control: an exploratory study of the use of tilt-in-space wheelchairs in residential care. American Journal of Occupational Therapy, 69(2).

Kreutz, D. (1997). Power tilt, recline or both. Team Rehab Report, March. 29 – 31.