In the United States, employees may have a right to a premium ergonomic office chair if their current chair is causing them pain or discomfort. The Occupational Safety and Health Administration (OSHA) requires employers to provide a safe and healthy work environment for their employees, which may include providing ergonomic equipment and furniture, such as ergonomic office chairs, to help prevent musculoskeletal disorders and other work-related injuries.
Sitting all day can truly be an occupational health and safety problem. Especially sitting poorly. Sitting poorly can result in muscle pain, back pain, neck pain, shoulder pain, and varicose veins, just to name a few!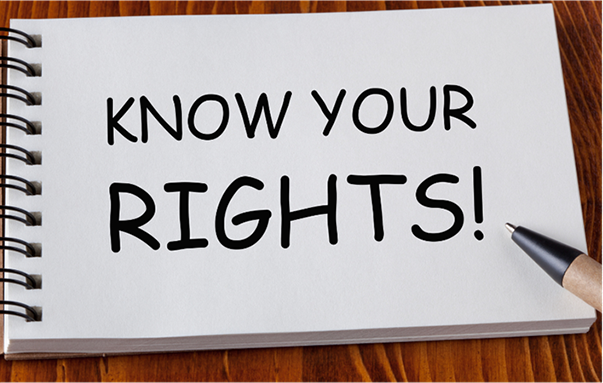 If an employee's current chair is causing them pain or discomfort, it will impact their work productivity and output. It's to the employer's advantage to provide them with a supportive chair!
As an employee, it shouldn't be considered a "frivolous ask" to request a premium ergonomic chair from the employer as it will only lead to improved performance and productivity. It's important for employees to communicate concerns about their work environment and equipment to their employer, as this can help to ensure that they are able to work safely and comfortably.
What to look for in a premium ergonomic chair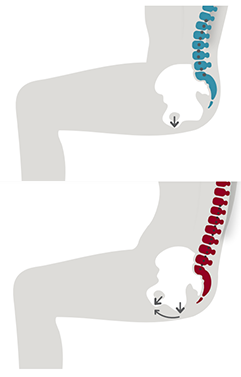 The most important thing to ask when evaluating premium ergonomic chairs is "where is it providing support to the body?" And with most premium ergonomic office chairs, the answer will be the seat and the lumbar area.
The Seat
The seat of a chair is very important if you are seeking to sit well and upright. In this position, the sit bones drive straight down into the seat surface. If you're sitting on mesh or a cheap foam, you will feel discomfort and roll your pelvis backwards, resulting in sitting in a slouched position.
So, pay attention to the quality and materials of the seat!
The Lumbar Support
What I'm about to say will be counter to what you've probably heard, but lumbar support does little to maintain good posture. Yes, I'm saying that lumbar support is not what you should be looking for!
Supporting the lumbar area is like supporting a tall building at the 5th floor. Eventually it will collapse!
Instead, look for a chair that offers pelvis support. The pelvis is the foundation of the spine and the angle of the pelvis will determine the position of the spine. If you tuck your pelvis (or roll it backwards), your spine will go into a "c" curve. If you bring your pelvis forward into a neutral position, your spine follows into an upright "s" curve. This will also bring the shoulders back and place the head in neutral position.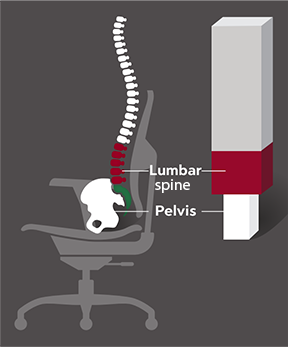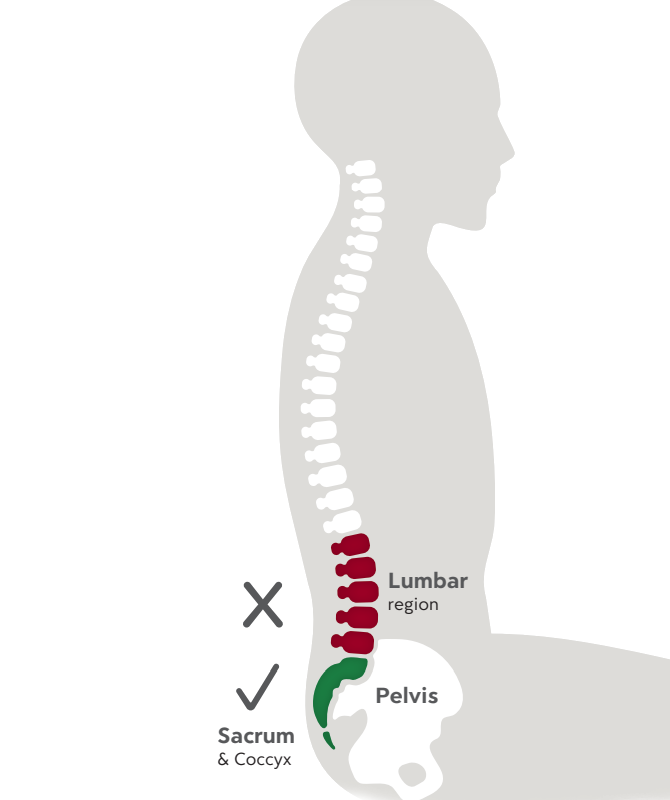 Find a chair that can support the pelvis in neutral so you can maintain that upright posture throughout the day and minimize the detrimental effects of sitting poorly.
Overall, it is important for employees in the United States to be aware of their rights and to communicate any concerns about their work environment and equipment to their employer. Advocate for your health and wellness at work since employers have a legal obligation to provide a safe and healthy work environment for their employees!
If you are looking to improve posture while sitting, look no further than Anthros.
Anthros is the only chair in the world that is guaranteed to improve posture or your money back. The science-backed, patented design is registered with the FDA as a posture-improving chair and is proven to have the lowest pressure (most comfortable) cushion on the planet (verified by university testing).
Take the next step to reducing pain, increasing comfort, and maximizing performance!
References:
Li W, Mo R, Yu S, Chu J, Hu Y, Wang L. The effects of the seat cushion contour and the sitting posture on surface pressure distribution and comfort during seated work. Int J Occup Med Environ Health. 2020 Sep 17;33(5):675-689. doi: 10.13075/ijomeh.1896.01582. Epub 2020 Jul 27. PMID: 32716013.
Grondin DE, Triano JJ, Tran S, Soave D. The effect of a lumbar support pillow on lumbar posture and comfort during a prolonged seated task. Chiropr Man Therapy. 2013;21(1):21. Published 2013 Jul 4. doi:10.1186/2045-709X-21-21 Waongenngarm P, Rajaratnam BS, Janwantanakul P. Internal Oblique and Transversus Abdominis Muscle Fatigue Induced by Slumped Sitting Posture after 1 Hour of Sitting in Office Workers. Saf Health Work. 2016 Mar;7(1):49-54. doi: 10.1016/j.shaw.2015.08.001. Epub 2015 Aug 21. PMID: 27014491; PMCID: PMC4792914.