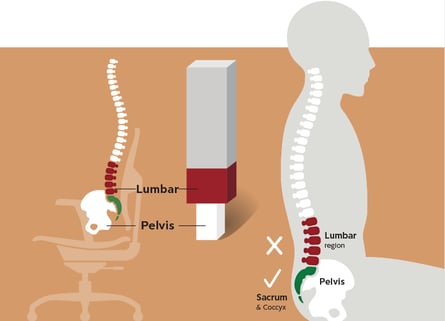 Lumbar supports are apparatuses that are designed to provide additional support to the lower back region in order to reduce back pain and improve posture. While lumbar supports have gained popularity in recent years to promote better health and prevent the negative effects of prolonged sitting, some studies have found that lumbar supports may not be as effective as claimed in reducing back pain or improving posture for everyone.
Biomechanically, the lumbar support is ineffective by pushing on the smallest cross-section of the spine to support the area below and above into a neutral posture. The human body would not tolerate the type of force that's required to lift the pelvis and support the upper back as well.
Consequently, one of the main criticisms of lumbar supports is that they can create a false sense of security, leading people to believe that they are protected from the negative effects of prolonged sitting even when they are not using good posture or engaging in other healthy behaviors.
Additionally, some studies have found that lumbar supports may not provide significant benefits in terms of reducing back pain or improving posture in all individuals, and that they may even have negative effects in some cases. For example, a study published in the Cochrane database found that lumbar supports did not significantly reduce back pain in a group of office workers who used them while sitting.1
Research tells us that "The shape of the lumbar spine when sitting depends directly on the position of the sacrum connected to the pelvis. The support should be given to the pelvis, not the lumbar spine".2
Looking for an office chair with pelvis support, not lumbar support, look no further than Anthros.
Anthros is the only chair in the world that is guaranteed to improve posture, or your money back. The science-backed, patented design, is registered with the FDA as a posture-improving chair and is proven to have the lowest pressure (most comfortable) cushion on the planet (verified by university testing).
Take the next step to reducing pain, increasing comfort and maximizing performance!
References:
van Duijvenbode IC, Jellema P, van Poppel MN, van Tulder MW. Lumbar supports for prevention and treatment of low back pain. Cochrane Database Syst Rev. 2008 Apr 16;2008(2):CD001823. doi: 10.1002/14651858.CD001823.pub3. PMID: 18425875; PMCID: PMC7046130.
Cohn, 1886; Schoberth, 1969; Branton, 1969; Lee, 2010.